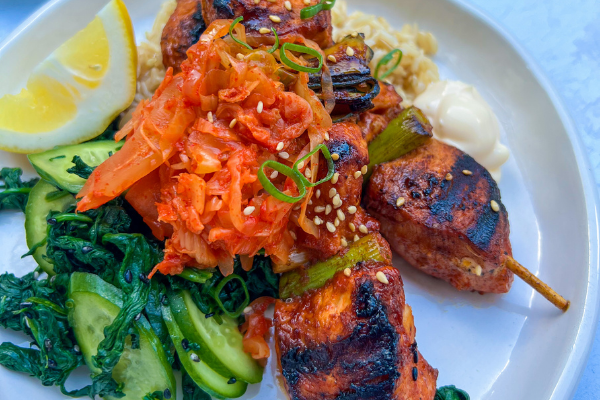 3/4 cup rice
INGREDIENTS
Marinade:
2 tbsp gochujang paste
2 tbsp soy sauce
Juice of half a lemon
1 tsp dried garlic
1 tsp white pepper
Skewers:
2 Bostock chicken breasts
Bunch of spring onions
1 zucchini
250g bag of baby spinach
4 baby cucumbers – thinly sliced
¼ cup thinly sliced spring onions – green part
2.5 tsp soy sauce
2 tsp sesame oil
1 tsp sesame seeds
Store-bought Kimchi
Kewpie mayonnaise
METHOD
Get the rice cooking as per the packet instructions.
Mix the marinade ingredients together in a bowl. Chop the chicken breast into roughly 2cm sized pieces, add these to the marinade. Set aside.  Slice the white parts of the spring onion into 2cm pieces. Ribbon the zucchini using a peeler. Set aside.
Now start making the skewers, place one piece of chicken into the skewer, followed by a piece of spring onion, then another piece of chicken, 2 zucchini ribbons and then the third piece of chicken.  This should roughly make 8 skewers.
Place the spinach into a bowl and pour boiling water over the top. Let it sit for 3 minutes. Pour the spinach into a colander and run it under cold water. Using both hands squeeze all of the water out.  Put the spinach onto a chopping board, pull it apart and then roughly chop it. Place the spinach into a bowl, with the sliced cucumbers, spring onion, soy sauce, sesame oil and seeds. Set aside.
Heat a couple of fry pans on medium heat, add enough oil to coat the bottom of the pans. Fry the skewers for roughly 2.5 minutes on both sides or until cooked through. Place the lid on whilst you are frying the chicken. Let the chicken rest on a plate for a couple of minutes.  Divide the rice, chicken and salad between three plates. Pour the cooking juices from the chicken over the top.
Spoon some Kimchi onto each plate and add a good squeeze of kewpie mayonnaise, enjoy!
Recipe supplied by Miss Pollys Kitchen
Download this recipe