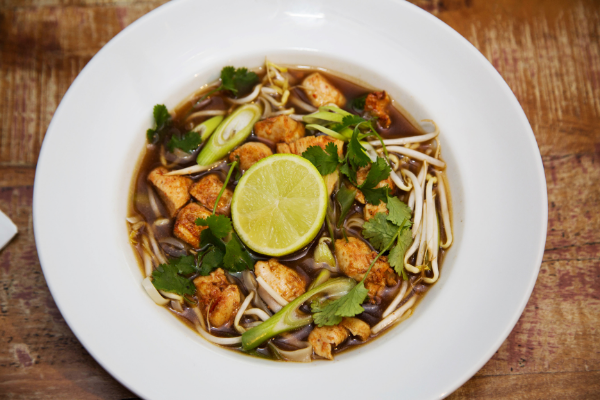 Recipe compliments of Village Green Café
Serves 6
INGREDIENTS
500 grams Bostock Brothers chicken breast
4-6 cups good quality chicken stock/broth
1 inch of grated ginger
1 star anise
1 cinnamon stick
1 tsp coriander seeds
Rice noodles
1 tbs garlic
1/4 tsp cracked pepper
1 tsp brown sugar
1 tsp fish sauce
Pinch of chilli
Handful of fresh coriander
Salt to taste
METHOD
Step 1
Put the ginger, star anise, cinnamon, coriander, garlic, pepper and sugar with a little chicken stock in a pot and stir to combine.
Step 2
Slowly add the rest of the chicken stock and allow the base to come to a boil. Once the base has simmered for 20 minutes strain the base into a separate bowl and discard whole ingredients leaving just the liquid.
Step 3
While the base is simmering thinly slice the chicken breasts and heat a pan with a little oil and sear the chicken until it is cooked through.
Step 4
Bring a pot of water to boil and add the rice noodles with a little oil. Gently cook until al dente.
Step 5
To serve add your noodles to a high rimmed bowl and cover with the pho base, a sprinkle of fresh coriander, chilli and add a lime wedge if desired.
Download this recipe