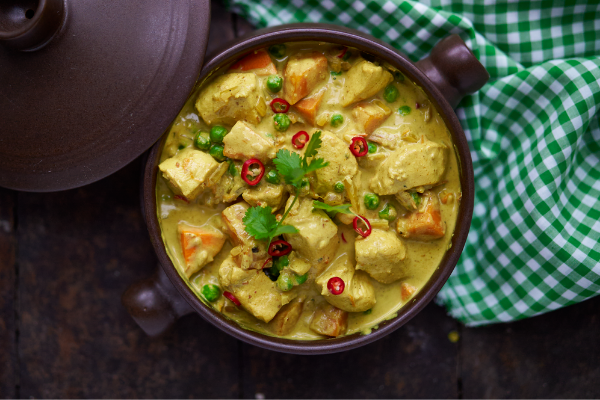 INGREDIENTS:
2 teaspoons of olive oil
1 Tablespoon of fish sauce
500g of Bostock Brother chicken breast or thigh
3 cloves of garlic, finely chopped
1/2 a red chilli finely chopped (add more if you want more spice)
1 onion roughly chopped
2-3 teaspoons of turmeric
1 Tablespoon of fresh ginger grated
Salt and pepper to taste
1 Tablespoons of brown sugar
4 Tablespoons of yellow curry paste
1 cup of coconut cream
1 can of chopped tomatoes
2 whole carrots, peeled and chopped into small pieces
2 potatoes peeled and chopped into small pieces
A handful of fresh beans (optional)
Half a cup of peas (optional)
1 – 2 Tablespoons of fresh lime juice
1/4 cup of coriander for garnish
METHOD:
In a wok, add a little olive oil and the fish sauce.
Add the onion and saute over medium heat until the onion is translucent and soft.
Add the chicken and brown, do not cook the whole way through. Remove the chicken from the pan and set aside.
Add the garlic, chilli, turmeric, fresh ginger, salt and pepper, and brown sugar to the pan and cook for a couple of minutes or until fragrant.
Add the tomatoes, curry paste, coconut cream, carrots and potatoes, stir thoroughly and leave to simmer away over low heat until the vegetables soften.
Add the chicken back in with the peas and beans and continue to simmer.
Add a splash of lime juice.
Serve over basmati rice with a handful of coriander and Naan bread.