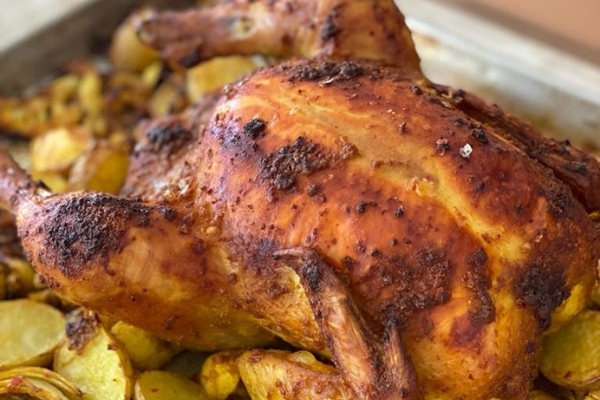 Ingredients:
1 whole Bostock Brothers Organic Free Range Chicken (Size 16)
15 new potatoes, sliced
1 small onion, sliced
½ cauliflower, cut into pieces
2 tbsp Rice bran oil
sea salt
Marinade:
10g salt
75g coconut sugar
10g chili powder
25g turmeric
50g garlic crushed or grated
75g ginger grated
2 fresh chili sliced
100ml coconut milk
20ml coconut oil
Method:
Combine all the ingredients for the marinade in a food processor. 
Rub the marinade all over the chicken, refrigerate and let rest for a few hours or overnight. Remove the chicken from the bowl and set aside.
In the bowl with the leftover marinate add the potatoes, onion, cauliflower and toss well and add a splash of rice bran oil and a pinch of salt. 
Lay the vegetable on an oven tray and spread out evenly, lay the chicken on top. Roast in a 180' preheated oven for 50 minutes until golden and cooked through.