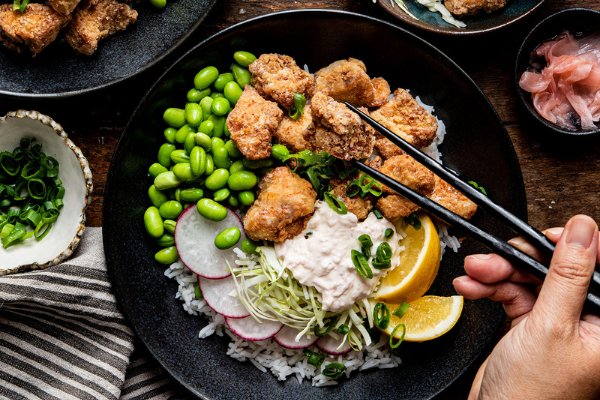 Serves 2-4
Recipe thanks to Bunny Eats Design
INGREDIENTS
1 tablespoon ginger, grated
1 clove of garlic, grated
1 tablespoon light soy sauce
1 teaspoon sesame oil
500 grams Bostock Brothers skinless boneless chicken breast or thigh
2 tablespoons pickled ginger, finely chopped
¼ cup mayonnaise
¾ cup cornflour
4 cups Canola oil
TO SERVE
Cooked rice
Edamame beans, shelled
Cabbage, thinly sliced
Radish, thinly sliced
Spring onion, thinly sliced
Lemon wedges
PREPARATION
  In a medium-sized bowl add ginger, garlic, soy sauce and sesame oil. Mix to combine.
  Cut the chicken into approximately 4cm pieces. Place chicken pieces into the bowl and mix to combine. Cover and marinade for 30 minutes.
  In a small bowl, mix together the chopped pickled ginger and mayonnaise. Reserve.
  Place a medium saucepan on medium-high heat and add oil. The oil is hot when small bubbles appear when you insert a wooden chopstick into it.
  Place the cornflour into a shallow bowl. Pick up a piece of marinated chicken and dredge in the corn flour until fully coated. Place the dredged piece on a plate. Continue until you have 10 pieces generously coated in cornflour. At this stage, you can start cooking the chicken in batches while you dredge the rest of the chicken.
Carefully add the dredged chicken pieces into the oil. Cook chicken in batches, approximately 10 pieces at a time, careful not to overcrowd. Fry for 5 minutes until the chicken pieces are golden and cooked through. Transfer to a paper towel-lined plate and season with a sprinkle of salt while the chicken is still hot. Repeat until all chicken has been dredged and fried.
 To assemble the bowls, put the cooked rice into 2, 3 or 4 serving bowls depending on appetite. Top with karaage chicken pieces, edamame beans, radish and cabbage. Garnish each bowl with a spoonful of pickled ginger mayo, a sprinkling of sliced spring onion and a lemon wedge.

To make this recipe at home, you can purchase Bostock Brothers Organic Free Range Chicken Thighs HERE