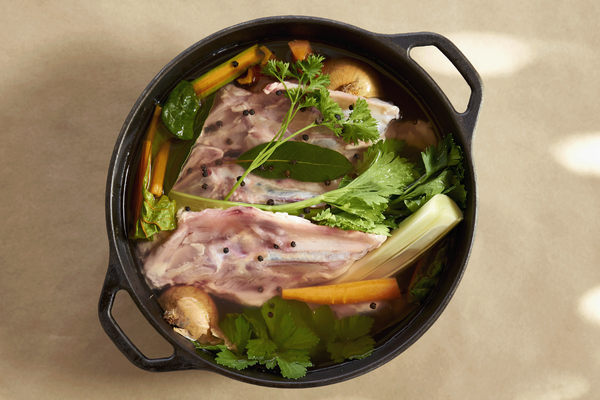 INGREDIENTS:
1 x Bostock Brothers whole chicken (you can use a leftover roast chicken, remove the meat and keep the bones and carcass)
1 x whole onion
2 x carrots
2 x celery stalks
4 cloves of garlic
a small knob of ginger
2 bay leaves
1 tablespoon of ground turmeric
generous amount of salt and pepper
2 tablespoons of Bostock Apple Cider Vinegar
enough water to fill the crock pot (filtered)
METHOD:
To a crock pot add the leftover roasted chicken bones and carcass.
Roughly chop onions, carrots and celery and add to the pot.
Grate or finely chop the garlic and peeled ginger and add to the pot.
Add bay leaves, turmeric, salt and pepper and apple cider vinegar.  Add enough water to cover all the ingredients and cook on high for 3 to 5 hours.
Turn the crock pot to low and continue to cook for a further 5 hours.
While still hot, strain the liquid using a fine mesh strainer and discard chicken and vegetables.
Pour the broth into storage containers, this will store in the fridge for up to one week or freeze for 6 months.
The broth should be like jelly with a layer of fat on the top, this can be removed before cooking.
Download this recipe