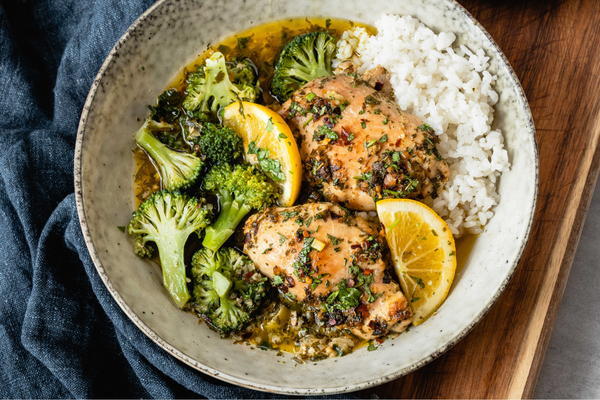 Serves 6-8
 Ingredients
Marinade Ingredients
150ml chicken stock
6-8 cloves of garlic, crushed
Juice of 1 small lemon
¼ cup chopped parsley or coriander leaves
2 spring onions, sliced
2 Tbsp melted butter or olive oil
1 Tbsp dried parsley
1 Tbsp dried onion flakes
2 tsp dried thyme
½ tsp chilli flakes
Fresh cracked pepper to taste
Method:
Preheat the oven to 200ºC.
Add all the marinade ingredients into a glass jar. Place the lid on and shake to combine.
If your oven doesn't run hot, we recommend frying the chicken thighs in a bit of olive oil or butter for 2-3 minutes on each side, or until they have some colour on them. However, if your oven roasts meats and veggies well, you can skip this step.
Add the chicken to an ovenproof dish and cover with the marinade mixture. Mix to combine evenly.
Use a pastry brush and add a bit of olive oil on the tops of the chicken thighs.
Place into the oven for 15 minutes depending on the size of the chicken thighs. Check if the chicken is cooked. The chicken must reach an internal temperature of 74ºC.
Once the top is crispy and the chicken thighs are cooked, remove from the oven.
Garnish with fresh parsley or coriander, lemon slices and a sprinkle of salt to taste.
Serve over rice with grilled, roasted or steamed veggies along with the pan juices. Or serve with a simple green salad if you want something lighter
ENJOY!
Recipe thanks to Jordan Pie