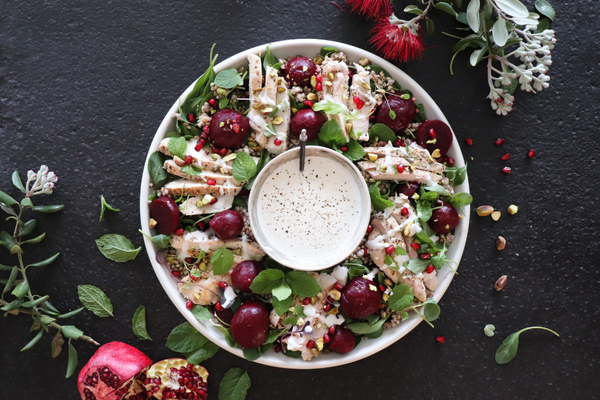 Chicken, Roast Beetroot & Whipped Feta Salad
By @kitchenoftreats
INGREDIENTS
Salad:
500g Packet of Bostock Brothers Chicken Breast
500g Fresh Beetroot (or tinned, just skip steps one and two!)
120g Baby Rocket
2 Cups Chicken Stock
1 Cup Buckwheat
Pomegranate Seeds
50g Pistachios, Chopped
Handful of Mint, Roughly Chopped
Whipped Feta Dressing:
200g Feta
130g Plain Unsweetened Yogurt
1 Tbsp Olive Oil
1 Medium Clove of Garlic
Salt & Pepper to Taste
METHOD
Preheat oven to 200C fan bake and line a large oven tray with baking paper.
Scrub beetroot clean, remove and discard ends then chop into rounds. Place on prepared tray, drizzle with oil, season with salt, pepper and toss to coat. Arrange in a single layer and roast for 30mins (or until soft).
Whipped Feta Dressing:
Meanwhile, blitz together in a food processor – feta, yoghurt, olive oil, garlic, salt and pepper until well combined and smooth in texture. Chill until ready to serve.
Cook Chicken:
Season chicken all over with salt and pepper. Heat oil in a pan, then add chicken breast. Cook for 1 minute on each side, then put on a lid and remove from heat. Leave the lid on for 8 mins. Rest for 1 minute, then sliced thinly.
Cook Buckwheat:
While the chicken cooks, bring buckwheat and stock to the boil. Reduce to a simmer and cook until tender (15-20mins).
Serve
When ready to assemble the salad, arrange buckwheat and rocket in a circle on a large plate. Top with beetroot. Arrange sliced chicken on top. Season with salt and pepper. Scatter with pistachios, pomegranate, and extra mint leaves as garnish.
Transfer whipped feta to a small serving bowl and place it in the centre of the salad. Serve with tongs and encourage everyone to spoon over their own dressing.