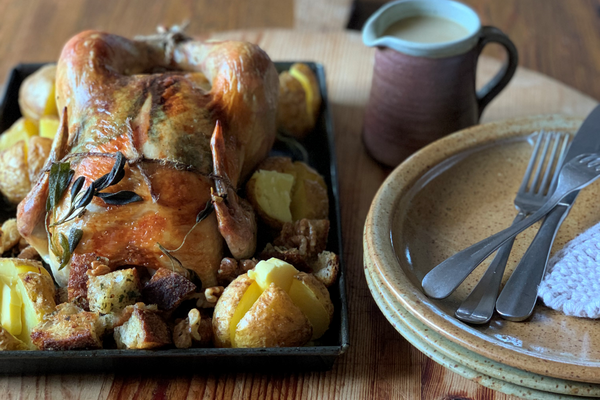 Serves 6 (if served with plenty of vegetables)
INGREDIENTS
1 x free-range Bostock Brothers organic chicken (size 14)
50g butter, softened
2 tablespoons chopped flat-leaf parsley
2 teaspoons finely chopped fresh sage leaves, plus 3 extra small sprigs
finely grated zest and juice of 1 lemon
salt and pepper
Sage stuffing
25g butter, softened
3 cloves garlic, crushed
2 teaspoons finely chopped fresh sage leaves
2-3 thick slices of sourdough bread
2 tablespoons very roughly chopped fresh walnuts
Jacket Potatoes
6 medium roasting potatoes, scrubbed
oil and salt for rubbing
Chicken gravy
2 tablespoons plain flour
2 cups chicken stock or more if needed (you can also use the vegetable cooking water to replace stock)
salt and pepper
METHOD
Heat the oven to 180°C.  Pat the chicken dry using kitchen paper.
In a small bowl, combine the butter, herbs and lemon zest and season with salt and pepper.
Gently work your fingers under the skin of the chicken to loosen it, being careful not to tear it. Nudge the butter and herb mixture into the chicken, rubbing all over the breast meat and then down towards the leg joints, then put your hand on the outer skin and smooth and tease it out so the mixture is spread as evenly as possible.
Make the sage stuffing in a small bowl, combine the butter, garlic and chopped sage leaves. Spread the butter over the bread slices, then cut into cubes.
Put the chicken in a roasting dish and stuff the bread cubes into the cavity along with the walnuts.  Squeeze the lemon juice over the skin of the chicken and sprinkle with a little salt. Pull the legs together and tie with kitchen string.  Tie the chicken wings to the breast or simply tuck them under. Scatter the sage sprigs around. Rub each potato with oil and salt and put it around the chicken. Put in the oven and roast for 1 hour and 15 minutes, basting a couple of times by spooning the juices over the chicken. You can check if the chicken is cooked by piercing the thigh with a small sharp knife. The juice should run clear.
Remove the chicken from the oven and put it on a warm plate. Cover with foil and a clean tea towel, and rest for 10 minutes while making the gravy.
Make the gravy, add the flour to the roasting dish and put over medium heat. Cook until the flour begins to colour, stirring with a wooden spoon to release any crisp bits left from cooking the chicken. These will add flavour and colour to your gravy. Gradually pour in the stock or vegetable water, constantly stirring to prevent lumps from forming until lightly thickened and glossy. Season with salt. (If you have a few lumps, strain the gravy through a sieve into a warmed jug for serving).
Serve with oven-roasted jacket potatoes or kumara and plenty of vegetables.
Tip – any extra stuffing can be put into a small dish and roasted until crisp in the oven.
Recipe courtesy of: Kathy Paterson