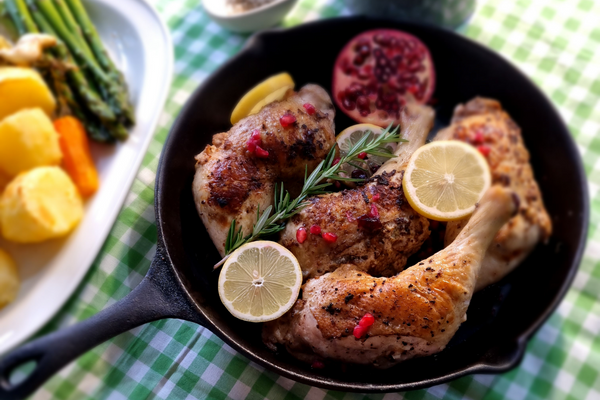 Prep: 20 minutes
Cook: 1.20 hr
Serves: 6
Ingredients
6 whole chicken legs
25g butter
2 tbsp wholegrain mustard
Roast potatoes and vegetables, to serve (optional)
For the Stuffing
3 celery sticks, finely chopped
2 red apples, cored and finely chopped
100g walnuts, chopped
100g fresh breadcrumbs, handful reserved for the topping
400g chicken mince
1 egg
Handful mixed herbs, chopped
2 tbsp wholegrain mustard
25g butter, plus extra for greasing
Method
Step 1.
Heat oven to 170C fan. To make the stuffing, mix together all the ingredients, except the butter, in a large bowl with some seasoning.
Scrunch with your hands until well combined.

Step 2.
On a clean chopping board, take the chicken legs and gently lift the skin away from the meat, get your stuffing mix and fill the chicken legs with the stuffing between the meat and skin, be careful not to overstuff.  Season with salt n pepper.

Step 3.
Heat a cast iron fry pan with a knob of butter and olive oil until nice and hot, place your chicken legs in the frying pan and cook for two minutes until the skin is golden and brown.

Step 4.
Brush the legs with mustard and butter, and bake for 40 – 50 minutes or until cooked and the juices clear.  Put the remainder of the stuffing on the top shelf at the same time and cook for 40 – 50 minutes until golden and crisp.
Leave the chicken to rest for 10 minutes, then serve with the stuffing and roast potatoes and veg, if you like.
Recipe courtesy of Bostock Organic Kitchen