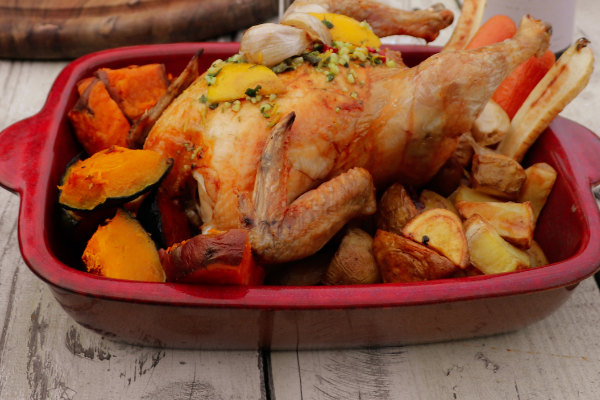 INGREDIENTS
Roasted Chicken
2 garlic cloves, coarsely chopped
4 lemons
2 tbsp each coarsely chopped tarragon, thyme and flat-leaf parsley
200 gm mascarpone
1 size 16 Bostock's organic chicken
For drizzling: olive oil
250 ml (1 cup)chicken stock
Roast carrot and lentil salad
90 ml olive oil
20 ml red wine vinegar
Finely grated rind and juice of 1½ lemons
1 garlic clove, finely chopped
2 bunches Dutch carrots, scrubbed
250 gm small green lentils
1 cup coarsely chopped flat-leaf parsley
3 handfuls mesculn
¼ preserved lemon, skin only,  finely diced
METHOD
Preheat oven to 180C. Pound garlic and ½ tsp sea salt in a mortar and pestle to a coarse paste. Finely grate rind of 2 lemons (reserve lemons), add to salt mixture with herbs and pound to a fine paste. Stir in mascarpone, season to taste and set aside.
Gently separate skin from the breasts and legs of the chicken by sliding your finger carefully between them, taking care not to tear the skin. Push 3/4 mascarpone mixture under skin of chicken and spread evenly under the skin.
Coarsely chop grated lemons and stuff into chicken cavities. Truss with kitchen string, place in a roasting pan and drizzle with oil. Cut remaining lemons into wedges, squeeze juice over the chicken and add wedges to pan. Add stock and roast, basting occasionally, until browned and cooked through (50-60 minutes depending on your oven). Test with a probe, check the chicken is cooked to 74c.
Meanwhile, for roast carrot and lentil salad, combine oil, vinegar, lemon rind, juice and garlic in a bowl and season to taste. Spread carrots on an oven tray lined with baking paper, drizzle with a little oil mixture, season to taste and roast until browned and tender (20-25 minutes). Cook lentils in a large saucepan of boiling water until tender (20-25 minutes), drain and add roast carrots, parsley, mesculn, preserved lemon and remaining oil mixture. Season to taste and keep warm.
Remove chicken from roasting pan and cover with foil to keep warm. Boil pan juices over high heat until reduced by half (4-5 minutes). Whisk in remaining mascarpone mixture, season to taste and serve spooned over mascarpone-roasted spatchcock with roast carrot and lentil salad.