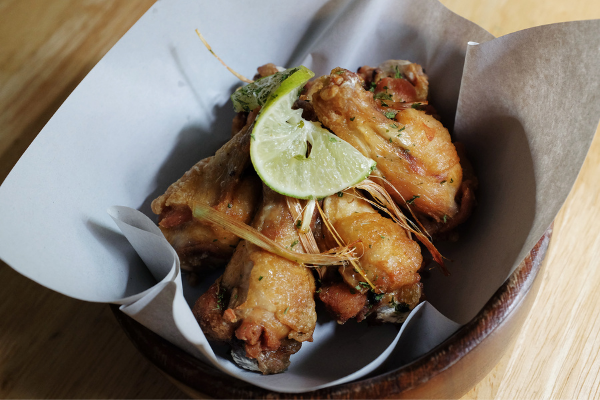 INGREDIENTS
125 ml (½ cup) fish sauce  135 gm
(½ cup) crushed light palm sugar
4 garlic cloves, pounded to a paste in a mortar and pestle
2 small red chillies, finely chopped
2 tsp soy sauce
1 kg chicken wings
400 ml sunflower oil
To serve: thinly sliced spring onion, bean sprouts, Vietnamese mint, lime cheeks, cucumber slices and steamed rice (optional)
METHOD
01
Combine fish sauce, palm sugar, garlic, chilli and soy sauce in a large bowl. Add chicken wings and toss to coat.
02
Heat oil in a wok to 170C or until shimmering, drain wings (reserve marinade) and pat dry with absorbent paper. Shallow-fry wings in batches, turning occasionally, until golden and cooked through (10 minutes; be careful, hot oil will spit). Drain on absorbent paper and transfer to a large bowl.
03
Simmer marinade in a small saucepan over medium-high heat until a light caramel colour (5 minutes). Pour onto wings and toss to combine. Serve with spring onion, bean sprouts, Vietnamese mint, lime cheeks, cucumber and steamed rice.