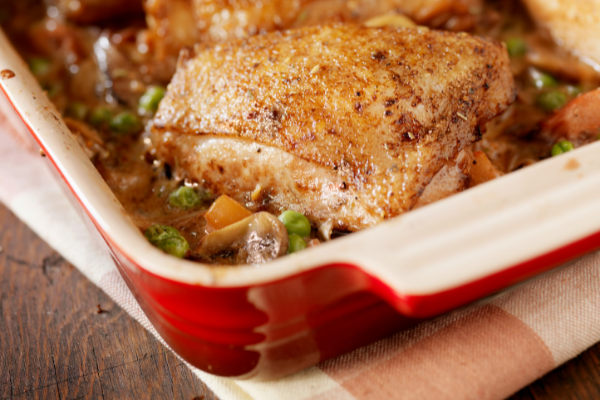 Braised Chicken with Peas and Red Wine
Serves 4
INGREDIENTS
8 Bostocks organic chicken thighs, bone-in and skin on
Sea salt and freshly ground pepper
3 tbsp extra virgin olive oil
1 red onion, sliced
8 cloves garlic, peeled
1 tbsp julienned ginger
2 sprigs rosemary
4 sprigs thyme
2 dried long red chillies (seeds removed), crushed
2 carrots, sliced into 1cm thick rounds
250ml good-quality red wine
400g canned tomatoes
150ml chicken stock
3 cups frozen peas
METHOD
Preheat the oven to 160°C. Season the chicken with sea salt.
Heat the oil in a large heavy-based ovenproof pan with a tight-fitting lid. Brown the chicken well on all sides, skin side down first. Remove from the pan and set aside.
Add the onion, garlic, ginger, rosemary, thyme, chilli and carrot to the pan and sauté over medium heat for 2 minutes or until starting to soften. Add the wine and simmer until reduced by half. Add the tomatoes and their juice, stock and chicken. Season to taste and bring to a boil.
Cover with the lid and bake in the oven for 20 minutes or until just cooked.
Transfer the pan, uncovered, to the stovetop and bring the sauce to a gentle, rolling simmer. Add the peas and cook for a further 5 minutes. Check the seasoning and adjust if necessary.
Spoon 2 chicken thighs per person into pasta bowls, pour over some sauce and vegetables and add a generous grind of pepper. Serve with soft polenta.