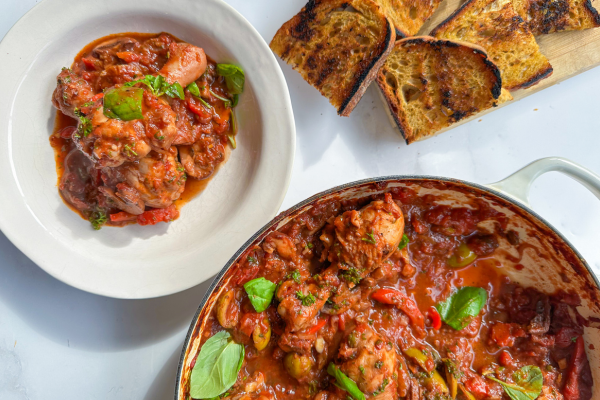 INGREDIENTS:
1 packet of Bostock's drumsticks
2 tbsp corn flour
1 large red onion
6 garlic cloves
350g button mushroom 
1 large red capsicum
1 tsp chilli flakes
1 tbsp fresh diced rosemary
1 tbsp dried oregano
2 tbsp tomato paste
½ cup green olives – halved
1 tbsp capers – drained 
½ cup red wine
2 cans of crushed tomato
1 cup chopped parsley & basil
METHOD:
Place the chicken into a bowl. Season with salt and pepper and coat in the corn flour. 
Slice the mushrooms into four, then slice the onion in half and into thin slices. Finely chop the garlic and cut the capsicum into thin pieces. 
Add some oil to a large deep pan and heat it to high. Add the chicken and brown on both sides. It will take about a minute each side. Set as a side. 
Using the same pan, add a splash of oil and turn the heat to medium, fry the onions, garlic and mushrooms for 5 minutes. Add the capsicum and chilli flakes, toss and simmer for a minute. 
Add the herbs and toss to combine, then fold in the tomato paste and let it simmer away. Add the olives, capers, and wine. Simmer for two minutes or until the wine has evaporated. 
Next, add the canned tomatoes and stir well until everything is well combined. 
Add the chicken back to the pan, submerging the chicken into the sauce. Simmer for 25-30 minutes or until the chicken is cooked through. 
Fold in the fresh parsley and sprinkle the basil leaves over the top. 
Enjoy with a loaf of warm garlic bread and a rocket salad.
Serve with toasted garlic bread and rocket.