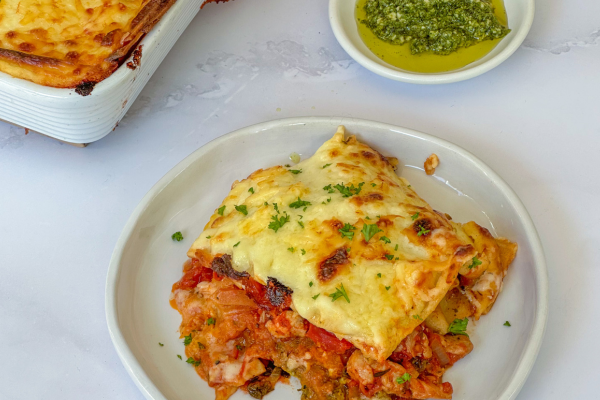 INGREDIENTS:
500g pumpkin – skin removed – cut into small pieces 
2 packs of Bostock Brothers organic chicken thighs 
One large white onion – finely diced 
Four large garlic cloves – sliced 
1 tbsp dried thyme 
1/4 cup tomato paste
Two cans of chopped tomatoes 
Handful of basil 
1 tbsp balsamic vinegar 
1L milk 
100g butter 
3/4 cup flour 
3 cups of a mix of tasty cheese & mozzarella
1/2 cup pesto 
Three fresh lasagne sheets
METHOD:
Preheat oven to 180 fan bake.
Place chopped pumpkin onto a lined baking tray, season with salt and pepper, drizzle with oil and bake for half an hour, until soft.
Slice chicken into roughly 1 cm slices. Season with salt and pepper.
Heat a large deep-sided pan with oil, brown the chicken quickly in batches, then set aside.
In the same pan, add more oil and fry the onions for five minutes. Add the garlic and fresh thyme, simmering for a few more minutes.
Add the tomato paste and mix well. Then add the canned tomatoes, basil and balsamic vinegar. Stir to combine and then fold in the browned chicken.
Let this simmer for 10 minutes on a medium heat.
In a separate pan, start the cheese sauce. Melt the butter on a low heat, then add the flour. Stir well until the flour is coated in butter. Pour the milk in slowly whilst whisking constantly. Turn up the heat, and the sauce will start to thicken; make sure there aren't lumps left. Now add 2 cups of cheese & some pepper. Stir well until the cheese has melted through.
By this point, the pumpkin should be cooked. Mash the pumpkin and set it aside.  Once the chicken is cooked, use two forks and carefully shred the chicken pieces.
Spoon a little chicken sauce over the bottom of a baking dish. Then, add a sheet of pasta. Top with half of the chicken, then pour half the cheese sauce. Add another layer of pasta. Then spoon over the pesto and then the mashed pumpkin. Top with the remaining chicken, then the final layer of pasta. Finish with pouring the cheese sauce over the top. Spread it around evenly and scatter over the final cup of grated cheese.
Cover with foil and bake for 20 minutes. Uncover and bake for another 20-25 minutes until the top cheese is melted, nice, and golden.
Serves 6 – 8 (depending on your hunger)