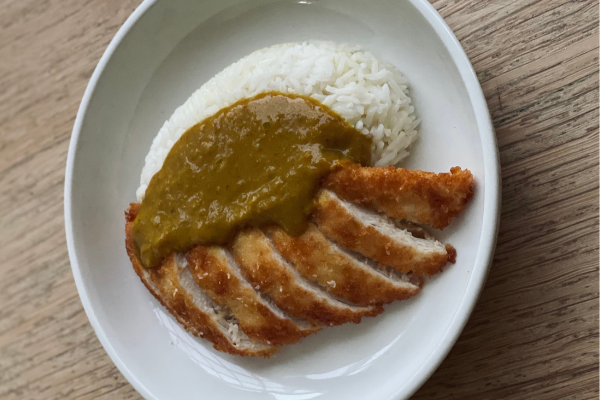 INGREDIENTS
Curry Sauce:
2-3 tablespoons vegetable oil
1 onion, finely chopped
1 garlic clove, crushed
1 tsp (heaped) fresh ginger, peeled and grated
1 teaspoon turmeric
2 tablespoons mild curry powder
1 tablespoon plain flour (corn flour can be substituted)
300ml chicken or vegetable stock
100ml coconut milk
1 teaspoon light soy sauce
1 teaspoon honey or sugar to taste
Chicken Katsu:
2 skinless organic chicken breasts
50g plain flour
2 eggs, lightly beaten
100g panko breadcrumbs
75ml vegetable oil, for deep frying
METHOD
For the sauce, add the oil to a medium pot and start to soften the onions, garlic and ginger. Then add curry powder, turmeric. Allow to simmer on a low to medium heat for a few minutes. Add the flour, cook for 1 minute with the spices. Add the chicken stock slowly, followed by the 100ml coconut milk and cook on low to medium heat for 8 minutes.. Add a pinch of sugar, salt and dash of soy sauce.
Split chicken fillets in half, beat slightly until even and crumb by coating in flour, beaten egg and breadcrumbs. Make sure all sides of the chicken are covered. Gently fry until golden brown.
Slice the cooked chicken katsu into strips and plate up next to the rice. Spoon over the curry sauce.
Serve with cooked rice
Download this recipe