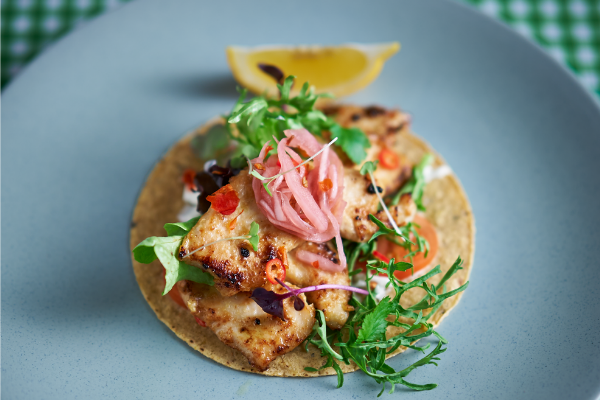 INGREDIENTS
Serves 2 – 4
2 chicken breasts
Olive Oil
Miso Paste
Garlic flakes
Chili flakes
To serve
Soft Tacos
pickle mayo or similar
Salad Mix
Chili Flakes or Hot Sauce
Sliced Pickled Onions
Fresh Coriander
Lime
METHOD
Slice chicken into thin pieces and toss in olive oil, miso paste, garlic and chili flakes.
Quickly fry the chicken in a hot pan until golden. Because the chicken is thin, it only needs a minute or two and the miso will quickly brown so remove once a lovely dark brown.
Warm your Soft Taco in a dry pan. Spread a little mayonnaise to the Taco, then start assembling with your favorite salad mix, or a zingy coleslaw is also a great option.
Lay your miso chicken, over that, add chili flakes or your favorite hot sauce and we always love pickled onions! End with fresh coriander and a squeeze of lime, fold and eat.
Download this recipe