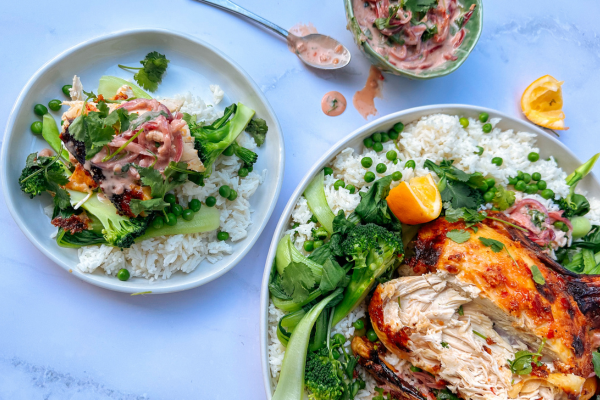 INGREDIENTS:
Size 16 Bostock Brothers Organic chicken
1 tbsp fresh ginger – minced
¼ cup sweet chilli sauce
75g butter – softened
Sauce:
2cm piece of ginger – finely diced
1 large red onion – sliced into thin wedges
¼ cup lime juice
1 tbsp lemongrass paste
1 tbsp sesame oil
¼ cup sweet chilli sauce
1 cup of coriander – chopped
2 cups of white rice
Pour the remaining coconut milk into a measuring cup (top it up with water to give you a full cup of liquid)
3 cups of water
1 large head of broccoli – cut the florets into quarters
2 cups peas
3 large bok choy – slice the leaves in half lengthways
METHOD:
Preheat your oven to 200 fan bake.
Mix the ginger, sweet chilli and butter together. Using your hands carefully, lift up the skin around the chicken breasts and spoon some of the buttery mix under the skin. Then spoon the remaining butter over the outside of the chook. Season generously with salt and pepper.
Place the chicken onto a baking dish. Place the chicken in the oven. It's important to have the front of the chicken facing towards the oven door and the legs at the back. (This is because the back of the oven is hotter, and the legs take longer to cook.) Bake for approximately 1 hour 10 minutes – 1 hour 20 minutes or until cooked. This will vary from oven to oven.
Start the sauce. Fry the ginger & onion in a pan with a good glug of oil. Simmer for 5 mins, stirring occasionally. Add the lime juice, lemongrass & sesame oil.
Pour in the coconut milk & the sweet chilli. Leave this to simmer away for a few minutes on low heat. Then turn off the heat.
Place the rice into a saucepan. Add the remaining coconut milk & water, plus a good pinch of salt. Cook the rice as per the packet instructions. Then keep the lid on to stay warm.
Let the cooked chook rest for a few minutes. Heat the sauce for a minute & stir through the coriander.
Heat a large saucepan of boiling water, blanch the broccoli, bok choy & peas for 2 mins.
Get a large serving platter, spoon in the cooked rice, and top with the blanched green vegetables. Carve the chicken up & place it in the centre, alongside the sauce.
Serves 4 – 5